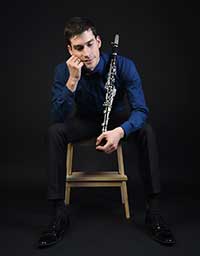 Kristiyan Kaloyanov (clarinet)
Kristiyan Kaloyanov was born in 1988 in Shumen, Bulgaria. He began playing the piano at the age of 4 and later on the clarinet. He finished his studies at the National Music School "Lubomir Pipkov" and the National Academy of Music "Prof. Pancho Vladigerov" in Sofia. His clarinet and chamber music teachers were Dancho Radevski, prof. Dimitar Dimitrov, prof. Petko Radev and prof. Venceslav Nikolov. In 2019 Kristiyan defended his PHD degree for chamber music and clarinet with a title "Interpretive and ensemble problems in the quartets of Paul Hindemith and Olivier Messiaen for clarinet, violin, violoncello and piano in the context of the European chamber music of the XX century".
From the year 2012 Kristiyan Kaloyanov is part of Chamber ensemble "Silhouettes" and since 2017 is a principal clarinetist at the National Bulgarian Radio Orchestra in Sofia.
Kristiyan has multiple concert performances as a soloist and a chamber musician in Bulgaria and abroad, recordings for the Bulgarian National Radio and multiple prizes from national and international competitions. He has been taking part in festivals, such as: "Salon des Arts" – NDK, Sofia, Bulgaria; March Music Days International Festival – Ruse, Bulgaria; K&K Festival – Austria; Festival di Quartetto – Florence, Italy; and more.
---