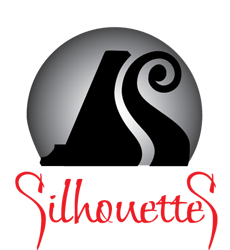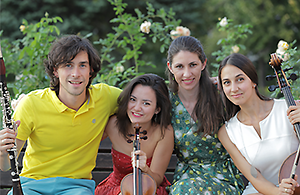 About Ensemble
Chamber Ensemble "Silhouettes" gets its name in the summer of 2012 as a result of the cooperation between four young musicians. Members of the ensemble are Kalina Miteva (violin), Gabriela Kaloyanova (cello), Lilia Jekova (piano) and Kristiyan Kaloyanov (clarinet).
They work together since 2008 with the prominent Bulgarian cellist Prof. Venceslav Nikolov at the National Music Academy "Prof. Pancho Vladigerov".
The ensemble's name was inspired by the piece "Silhouettes" for cello and piano of the Bulgarian composer Vassil Kazandjiev.
The musicians are focused on the repertoire of the classical composers, as well as the music
of XX and XXI century and the works of the Bulgarian composers Pancho Vladigerov, Marin Goleminov, Konstantin Iliev, Vassil Kazandjiev and etc.

For these years the musicians has had numerous performances:
concerts in Studio 1 of the Bulgarian National Radio, directly broadcast (2011, 2012, 2013, 2014);
a multitude of concerts in the Great Hall of National Academy of Music, some of them were recorded by Bulgarian National Radio;
concerts within the "Days of Chamber Music", Gabrovo (2011);
the "Fourth Festival of Youth in Art Via Pontica", Balchik (2011);
concerts in Czech Cultural Centre, Austrian and German embassies, Sofia;
concert at the "Salon des Arts" in National Palace of Culture, Sofia (2012);
XVII Austrian Music Weeks (2013);
concerts at "Akademie am Meer", Sylt, Germany (2013, 2014);
concert in Bulgarian Cultural Institute - Budapest (2014)
50. International Chamber Music Festival, Plovdiv (2014).
"March Music Days" International festival, Rousse (2015) и др.
At the invitation of the Bulgarian National Radio, they realized records which presented Bulgaria on the "European Day of Young Musicians" (2011).
In 2012 and 2013 the musicians are scholarship students of International Summer Academy PragWienBudapest (ISA), where they won the Special Award ("Förderpreis") of ISA13 and studied with Hatto Beyerle, Johannes Meissel, Avedis Kouyoumdjian, Peter Nagy, Marta Gulyas, Petr Prause, Miguel da Silva, Evgenia Epshtein, Sharon Kam and etc.
In 2013 the musicians are fellowship holders of "Jordan Kamdzhalov" Foundation. In 2014 Chamber Ensemble "Silhouettes" realized their debut project "Contrasts" – a cycle of two concerts, supported by the Ministry of Culture, Bulgaria and the National Culture Fund.
They also worked with prof. Saschko Gawriloff at Schleswig-Holstein Musik Festival Masterclasses in Lubeck, Germany (2015).
In 2015-2016 Silhouettes ensemble are one of the initiators of the annual "Sofia Chamber Music Festival Agitato" which takes place at the Bulgarian National Radio.
In 2017 the musicians are accepted as guest ensemble in the European Chamber Music Academy (ECMA).
---